Ear crop calls reach record highs as half the Senedd calls for action
More than half of all eligible Senedd Members have already signed a Statement of Opinion calling for more action in Wales against the illegal ear cropping of dogs - as shocking new figures show calls received by the RSPCA about the mutilation reach record highs.
In 2021, RSPCA investigators received 188 reports related to illegal ear cropping across England and Wales - an 86% increase on the 101 reports to the charity in 2020.
Since 2015, when record keeping began, reports to the RSPCA have soared 1,243% - with only 14 reports received by the charity in 2015.

RSPCA Cymru fears an increase in reports about ear cropped dogs could be driven by social media trends - with some with some celebs and showbiz stars having posted photographs of pets with cropped ears online.
The shocking new data follows the airing of a BBC Wales documentary, which suggested that unscrupulous traders are routinely offering puppies with cropped ears for sale in Wales. It was feared sellers are exploiting existing loopholes in legislation to pretend puppies having their ears cropped domestically had actually been imported from countries where the practice is, sadly, still legal, before being imported into the UK.
The problem is set to be tackled in part, as the UK Government's Kept Animals Bill continues its legislative journey, with the Senedd set to vote on giving the law consent to apply to Wales. Once in force, the law is set to empower Welsh Ministers to ban the importation of mutilated dogs into Wales.
RSPCA Cymru has joined forces with fellow charity Hope Rescue, offering to support the Welsh Government with a promotional scheme aimed at reminding the public about the laws on cropped dogs and the welfare issues the procedure can cause pets.
The charities have written to the Welsh Government, offering their support for a targeted human behaviour change campaign reminding the public about the laws on ear cropping, and how damaging this mutilation can be for canine welfare.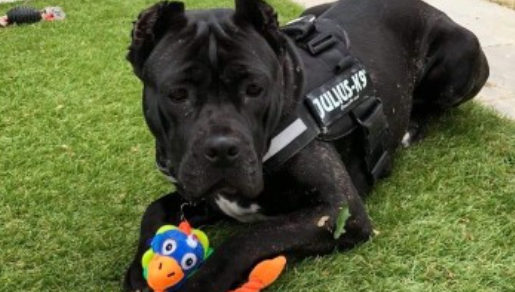 Dr Sam Gaines, head of the RSPCA's companion animals team, said: "Ear cropping has been illegal in Wales for a long time; and for good reason. It's a barbaric, painful procedure that is carried out purely to achieve a desired look and to make a dog appear tougher.

"Removing or modifying a dog's ears can have serious, lifelong implications for that dog. Dogs who have come into our care having had their ears brutally cut off - usually without anaesthetic or pain relief - can be nervous around people and sudden movements, may struggle to socialise with other dogs and humans, and can be head-shy.

"We're thrilled that the UK Government's Kept Animals Bill is likely to apply to Wales - with Senedd Members set to vote on this soon. Sadly, our rescuers continue to frequently see dogs who are suffering as a result of ear cropping - so regulations in Wales which will ban the importation of dogs with cropped ears will be so important.

"However, we know unscrupulous traders will still seek to circumvent the law and crop dogs' ears to try and make a quick buck; fuelled by unhelpful social media trends. That's why we're urging the Welsh Government to work with us and our friends at Hope Rescue to launch a new promotional campaign, highlighting to dog owners the law, the forthcoming change in law and how dangerous ear cropping is for dogs."

Vanessa Waddon, from Hope Rescue, added: "Sadly we have seen first hand the impact of ear-cropping, and are pleased to be working with the RSPCA on this important campaign.

"Sadly this cruel practice is fuelled by public demand, with breeders charging more for puppies with cropped ears. It's important that the public understand the welfare issues involved and don't follow the trends they see on social media.

"Ear-cropping has been normalised for certain breeds, and in particular we receive regular reports about Pocket Bullies that have been subjected to this barbaric procedure. But it's far from normal, and is illegal in the UK, for very good reasons."
Meanwhile, a Statement of Opinion laid at the Welsh Parliament by Natasha Asghar MS has been signed by 23 Senedd Members - more than half of those eligible to sign. The statement, signed by Members of all four political parties represented at the Senedd, urges the Welsh Government to "redouble its efforts to stamp out the illegal and cruel mutilation of dogs in Wales" and highlights the dramatic rise in reports of ear cropping received by the RSPCA.

The South Wales East MS said: "I am very concerned that the number of reports of illegal dog cropping made to the RSPCA is on the rise.

"This cruel mutilation of dogs is shameful and has no place in our society. I am delighted that my Statement of Opinion calling on the Welsh Government to redouble its efforts to stamp out the illegal and cruel mutilation of dogs in Wales and supporting the prosecution of those groups and individuals who commit these crimes against animals has received cross party support."
RSPCA Cymru's call for action has received celebrity endorsement - with actor and presenter Ross Kemp adding his calls for a crackdown on ear cropping.
He said: "The cruel trend of cropping a dog's ears to make them seem tougher has to stop. It¿s an illegal practice that serves no purpose and causes the dogs pain and suffering which can affect them for the rest of their lives.

"The RSPCA has been calling for an end to the import of dogs with cropped ears which I fully support and I would urge anyone who thinks it is a good idea to get a dog which has been mutilated in this way to think again."
Anyone who suspects someone is cropping their dogs¿ ears should report this to the RSPCA's emergency hotline on 0300 1234 999.